Armstrong, Tokio based Dj and music producer answered 9 questions regarding his life, future project and his latest release. He is widely renowned for infusing soundscapes and incorporating heavy underground house influences. Armstrong often adds strong techno overtones to create a unique soundtrack that follows him around the globe. Becoming hugely passionate about Electronic Music and DJing from an early age.
1. What is it about music that drew you to it? When did you start DJing?
Since I can remember I've always loved music. From the age of 9 or 10, I was asking my mum to take me to concerts with bands like INXS and U2. From then on, I wanted to see as much live music as I could. When my friends and I were 17, we'd go to these underground warehouse parties where they'd be playing Goa Trance in the main room, but in the second room they'd be playing this amazing electronic music I'd never heard before. I'm not even sure how to describe the genre, but I was hooked. From there it was just a natural progression from going to parties to then eventually playing at them. I became a full-time DJ in 1998.
2. What is it like recording and living in Tokyo at the moment? What can you tell us about the scene over there?
Living in Tokyo is great! It's definitely home now and I've recently built a studio in our house, which makes it convenient to record as I just go downstairs. The scene over here is amazing! We're lucky that Tokyo is a place where a lot of international DJs/bands and producers want to visit and perform, so we are spoilt for choice on any given weekend; of course, things are a little bit different post-COVID, but there are still many local artists keeping the scene alive. Having things like Fuji Rock, Summer Sonic and Mutek Tokyo is great for the industry here as well.
3. What was the inspiration behind your latest release on Deeplomatic Recordings? What were your goals going into making this release?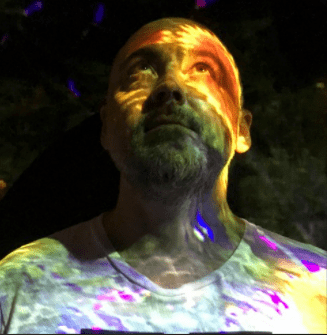 The inspiration behind Sumo is all about two sumo wrestlers fighting. I am a huge fan of sumo and try to go out to see it when I can. The track is all about the movement of sumo; the anticipation, the battle and the take-down and the fact that these two guys want to f@#k each other up – hence the lyric in the track. The goal of the track was to make it quite aggressive and heavy.
4. Armstrong, do you have any other releases coming out this year? What should we expect from Armstrong in the next months? Any exciting projects you can give the readers a sneak peek to?
I've got a few tracks that are finished, but I doubt they will be ready for release this year, but you never know. I am booked to go to Europe in March 2021, but it seems unlikely at this point. For now, I'm just focusing on writing new music. I would love to incorporate more visuals to the music I'm working on, so early next year we will head to Hokkaido (Northern Japan) to shoot a music video for a new track which I'm excited about.
5. What are currently your main challenges as a DJ? What is it about DJing, compared to, say, producing your own music, that makes it interesting for you?
The main challenge at the moment for any DJ around the world would be the lack of venues open for gigs. COVID has had such a massive impact on the whole industry, not only DJs but musicians everywhere. I've always had such a love and passion for DJing and it's something I miss a lot. There's that certain energy that you don't get in the studio.
6. What does your approach when performing in a gig look like – from selecting the material and preparing for, opening and then building a set?
It depends if I'm doing a set of just my material or doing a mixed set. It, obviously, also depends on the venue and what style or theme that promoter or venue is trying to push. My approach for both though is to have good progression throughout the set. A lot of it too is just gut instinct; whatever is flowing for me at that time and how I'm feeling. I'm lucky playing here in Tokyo, as people are really open-minded with music and quite a few of the venues have different rooms for different styles, so you can get away with being a bit more experimental.
7. What is it that you wanted to transmit with the videoclip of your new song Sumo?
Initially, we wanted to shoot the clip in a sumo stable with two wrestlers fighting, but with COVID there were just too many hurdles and restrictions. The director for the clip and I bounced some ideas off of each other and thought it would be great to shoot around Tokyo during this time, as it was pretty much a ghost town. We thought it would provide a good contrasting backdrop. Then Hal Hirata, who is a fantastic choreographer and dancer, jumped on board for the clip and the rest is history. She was such a trooper. It must have been 33°C with 100% humidity and she pretty much danced non-stop for 4 hours through the streets of Tokyo.
8. Armstrong, You are now leaning towards a more melodic techno and left field house; how would you describe your own development as an artist and the transition towards your own sound?
Gosh. I'm still not even sure if I've found my own sound yet. I'm always learning, evolving and discovering new ideas and sounds. I love all kinds of electronic music, but I've definitely been more on the left-field house and the melodic side of techno of late. Next week who knows! I think it's important for artists not to stay static and "set in their ways".
9. The EP Armstrong – "Sumo" includes three remixes from established producers such as Jamie Stevens, Jamie Lloyd and Alex Ferrer. What role do they play in your approach as collaborators? What are your preferred ways of engaging with other creatives through, for example, file sharing, jamming or just talking about ideas?
Having the two Jamie's and Alex do remixes for Sumo was a real privilege, so I just kind of left them to their own devices. They all have such good musical brains, so I knew whatever direction they wanted to take it, it was going to be the right one. I was really blown away by what they did. I mean, only Jamie Lloyd would think to take it in a Twin Peaks direction. Amazing! I guess, when approaching any collaboration or asking someone to do a remix, the last thing you want to do is put too many opinions forward or too much pressure on them. That would defeat the whole purpose of getting a fresh take on what you've done.
Follow Armstrong: Soundcloud I Spotify