An insightful interview with South Africa's rising DJ Dwson
South Africa's substantial electronic music scene has been the centre of attention for the past few years. Musical styles like Afrotech, Afrohouse and other interconnected types of music have been exported globally, capturing the minds and hearts of music fans all over. The country's tumultuous past is well known, but the ghost of racial segregation still has a deep impact on millions to this day.
Aside from the racism faced by Black people the so-called Coloured people continue to face discrimination and segregation on an everyday basis. Coloured is a term used for people that have a mixed heritage and they continue to confront discrimination from Black and white people because of their placement between the two.
Dwson is one of the few Coloured artists that have burst through the electronic music scene, opening the doors for other to walk through. His sound is a beautiful blend of various styles. He grew up on jazz through his father and later in his teens fell in love with house music.
He has now become South Africa's most in-demand artist and is influencing the increase in representation of Coloured artists in South African media.
Below is an interview with the talented Dwson.
What was it like growing up in Cape Town?
I'm from Factreton, which is quite a chilled area. I mean there's a lot of things happening around us, we're surrounded by gangsters and drugs. In terms of being Coloured, there's a stereotype that we're all aggressive and we all speak one language, which is not the case.

What was your inspiration to start playing and making music?
Just the passion for music from a young age. Watching my idols. I'm a big fan of Jimpster, that's my number one, my biggest inspiration. Then you've got everyone else, too many names to mention, locally and internationally. I've been going to Deluxe since I was 16. They've always been pushing proper house music, soulful house music, getting a lot of international guys to come through, guys I thought I would never see. That's definitely played a part in what I'm doing today. I also love the Soulection stuff, the brother and sisterhood thing that they've got going on. It gave me hope, people coming together despite their colour.

What's life been like for Coloured people in South Africa?
We've always been in the middle, we were not too black to be part of the Blacks and not too light to be part of the whites. So we've always been fighting this battle in the middle, not knowing where to go and where we stand as Coloured people. We're still experiencing things now that our ancestors experienced back then.
Are there many Coloured people in electronic music?
There are quite a few people doing it. In Cape Town there are a few Coloureds pushing it. When I started playing, I played for my people, we had an event called Dope Room, which was out here in my hood. It was mostly Coloured people showing up at first but, as it went on, we had everyone together. The name started to spread and I started playing across the city.

How do your experiences as a Coloured person find their place in your music?
I try to put as much emotion into my stuff as I can. Not always, I like having fun as well. I love experimenting but I love adding emotion so you can feel some kind of way. Most of my music doesn't have words in it, so I try to tell a story with what I'm writing, musically. [Being Coloured] definitely has an effect on what I write in the studio.

Do you think it helps you understand yourself and the world around you better?
Yeah man, sometimes there's too much emotion for me to put into a song. I'll just go from what I'm feeling at the time and not overthink it. I try to just let it flow and not let too much get in the way of the creativity because sometimes you don't know which spot to touch when you're feeling so many things. With art, I think you have to keep it pure and not get everything too mixed. It's got to be pure, it's got to be from the heart.

How do you feel witnessing the growth of South African electronic music, both locally and internationally?
I've been paying attention to the Beatport charts and everything that's going on, and you can definitely hear a lot of influence coming from South Africa. Especially the Afro sound. You check the charts and all the guys that are at the top of the Afro charts are not even from here, so that says something. Africa has been an inspiration to a lot of genres. The cool thing with South Africa is like, we've also had this way of creating our own sounds. We've had so many genres that have crept up over the years and originated from here. People are taking them and flipping it in their own way.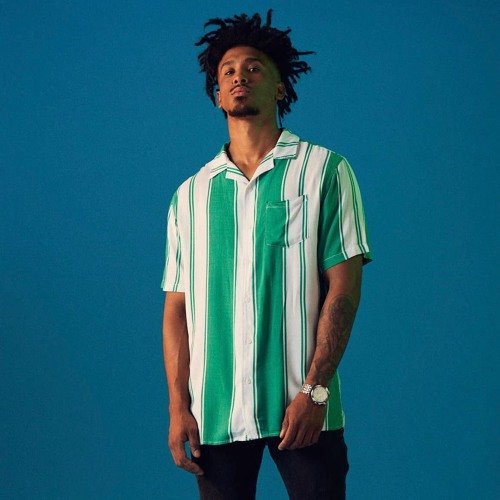 How was the scene there before the lockdown?
A few years ago there was only one club in Cape Town pushing deep house music, which was the one I mentioned, Deluxe. That closed down and it was quite quiet for us for a while. There was no real home for deep house, then another movement started which was called We House Sundays, which was a bi-monthly event. They do festivals now, too.

Who are some of your closest acquaintances in the scene?
My cousin KYMAC is involved in a totally different genre, more on the Soulection side of things, but he's been the closest ally, always motivating me. He helped a lot in the beginning as well, the connection was real and he's always been pushing me and keen to share what's happening. I'm always forever grateful for that, it's not always common to have a bond with someone where they share what they've been learning for years. He's a distant relative but it doesn't feel like that. The cool thing with Cape Town is that it's so small we all know each other, there can be egos from time to time but there are also a lot of genuine people in the industry.

You've said that festivals have been important to breaking down boundaries, how has the scene there developed over the years?
It's gotten better. People are more welcoming now, there are parties with a lot of different ethnicities. Also, the atmosphere is better than it was. The festivals play a role in having that atmosphere. Everyone's in a better space and coming together. It's definitely giving us all hope, if we continue this way it's gonna be a beautiful space. We might just end up being like Berlin. We could if we keep on improving like we are. Music is playing a massive role, that's why I'm so for the festivals. Their impact is on a much larger scale than the clubs, the energy, the weather, you're outside and everyone's on a different wavelength. The line-ups are so diverse and that's a beautiful thing also, everyone's feeding off each other. It's really good to see a lot of ethnicities coming together.
Dwson Socials: Instagram I Facebook