Following the success from his single 'Neo Soul' with Essenger, Cyazon takes us into the future with his highly original and heavily bass-charged productions.
Cyazon's own hybrid spin on modern dance music incorporates elements of dark, ethereal and cyberpunk elements. His artistic view has allowed him to exceed in the industry, with support from the likes of 'Au5' and 'Zomboy'.
'Neo Soul' with Essenger made its debut on Monstercat and garnered hundreds of thousands of plays.
In 2020, Cyazon was hailed on Monstercat's very own MCTV Live Stream for his first live DJ set and landed himself on the front page of the world's leading live streaming platform, Twitch. You can now tune into Cyazon's 'Cyber Future' radio show
After 10 months of inactivity in the musical scene, Cyazon is back and we didn't want to miss the opportunity to ask him about his musical background and his future projects.
Who is Cyazon?
I am a futuristic music artist living in L.A, constantly testing the boundaries of conventional music in my own style.
Have you picked up any new hobbies?
Not so many new hobbies. I'm trying to get back into running. I rollerblade at skateparks from time to time too. I suppose something new I picked up is that I'm reading a few self-help books. Meditation is also something I'm trying to tap into more sometimes.
What have you been doing to keep yourself busy the last months?
It was either working on music when I had the chance or feel like it, or focusing on my recovery medically, healing from that, and taking time for myself.
Tell us a bit about your musical background?
So I played the piano roughly from 10 to 15 at an intermediate level. I started making electronic music when I was 21, that was in 2012, 9 years ago.
I started taking music production more seriously in 2018 and went to a music school that year. So I would say I have been making music for a little over 3 years.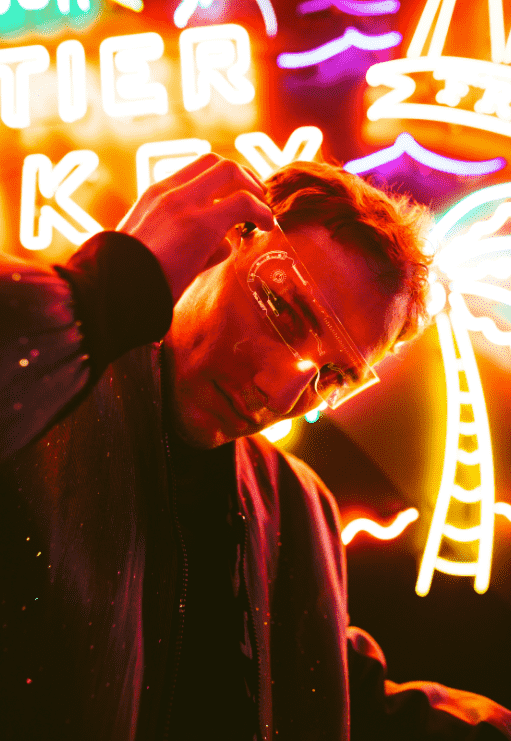 What achievements are you proud of so far this year?
I would say the only achievement that did happen this year is working with my PR agency and management. That was a good step in the right direction.
Cyazon encapsulates his vision of the murky undertones of abandoned streetscapes, the blurs of neon lights from Bladerunner's metropolis, and the lawlessness of a cyberpunk world. 
What are you looking to have achieved this year personally and in your career?
Personally, I think I would like to be able to fully recover from my mental health. I also would like to be more active with running and start having a healthier diet. I'm already making tremendous improvement with all three.
In terms of my career, all I'm focused on is making more songs at a higher professional level, and have more label releases this year if possible. I try to create an engaging and interactive fan community.
Who are your favourite artists at the moment?
Roniit. She makes spiritual acoustic music with few electronic elements so it feels really organic. Her music really has helped me a lot.
Nytrix, Tokyo Machine, Koven, and Au5 are a few others I enjoy listening to as of recent.
What do you have planned for the immediate future?
I'm hoping to have 2 tracks released on a label. That's the only real plan I have so far. Spending a lot of time for myself haha.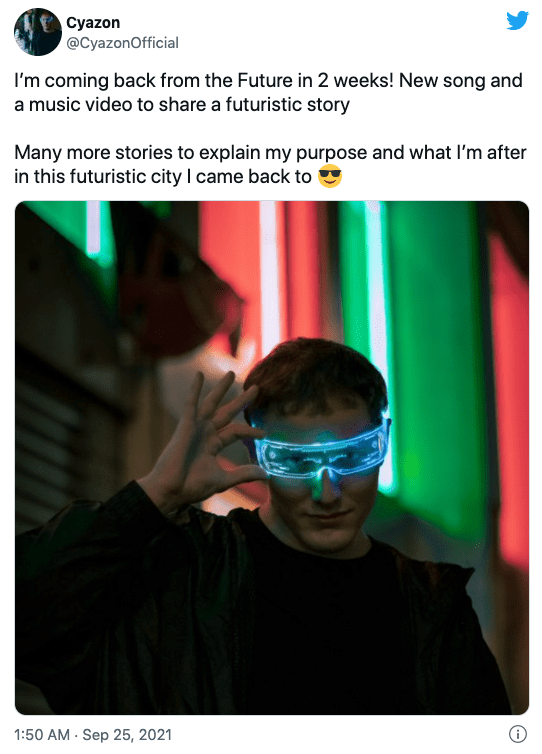 What do you do to help you gain inspiration?
What has helped me is mainly listening to different music other than EDM. Also, watching futuristic movies and videos games is a good way to get my imagination going with making music.
Some other things I like to do are watch self-help Youtube videos, artist interviews/documentaries, and really carve out time in the day for myself. Sometimes I'll go somewhere new that I haven't been to in LA. Somewhere interesting, mysterious, and something that feels like an adventure. That really helps calm my mind, focus on coming up with new storyline ideas for my songs, and just helps me manifest what I want in my life. All these things usually have helped inspire me in the past.
What do you have in store for us that we can look forward to in the upcoming months?
Like I said earlier, really only the 2 tracks on the label is going to be coming soon. Maybe another track release if it's the right time.
Follow Cyazon: Twitch I Instagram I Facebook I Soundcloud I Twitter I