The mini AIRA T8 emulates some iconic Roland drum machines in a small package and is now available. The amazing characteristics and its size and weight make this drum machine all novelty. The AIRA T8 is a miniature rhythm factory loaded with legendary Roland TR drums plus bass from the inimitable TB-303.
Features:
Ultra-portable rhythm and bass machine with genuine Roland sounds.
Six rhythm tracks with sounds from the influential TR-808, TR-909 and TR-606 drum machines.
Bass track with sawtooth/square waveforms and hands-on controls derived from the TB-303 Bass Line.
Analog Circuit Behavior (ACB) technology faithfully recreates the tonality and behaviour of vintage Roland instruments.
Classic TR.-REC drum sequencer with 64 user patterns and up to 32 steps each.
Advanced rhythm programming with probability, sub-step, last step and velocity.
Real-time recording and powerful performance features like step loop, mute, fill, reload and pattern shift.
Colour and process sounds with delay, reverb, overdrive and sidechain compression.
Comprehensive connectivity with audio, MIDI, and sync I/O plus AIRA link.
Class-compliant USB-C audio/MIDI interface- no drivers needed.
Lithium-ion battery with up to 4,5 hours of operation per charge.
Sturdy construction and high-quality rubber pads.
Connect to other AIRA Compacts and standard MIDI devices with optional BOSS TRS MIDI cables.
The AIRA T8 offers a lower price point, portability and FX, while attempting to summon the energy of Roland's classic beat machines. The price is 199$ and we will see the compromises made by this new price point.
The T8 combines both drum and bassline sounds and, though there's a limited amount of sample choice, there are plenty of tweaking options.
At the bottom, there's the expected 16-step sequencer, where you programme your drum and bass pattern. Connection-wise, there are four 3.5mm jacks for sync in and out and audio in and out, while around the back there's a USB-C port for power and charging, and MIDI in and out 3.5mm jacks for an adaptor sold separately.
The USB-C can also send audio, you only need one cable for power, MIDI and audio out into your DAW. Finally, there's a seven-segment screen for changing settings and parameters and the T8 is rechargeable over USB, with 4-5 hours of use on a full charge.

The sound
The AIRA T8 has the 909 punch and pitch envelope that gives it that classic house sound, but it's also possible to dive into the menu and take some of the attacks off if you're more of an 808-type person, though it's definitely more similar to a 909.
Uses the same Analog Circuit Behaviour (ACB) you'll find on other Roland kits including the TR8S and TB-3.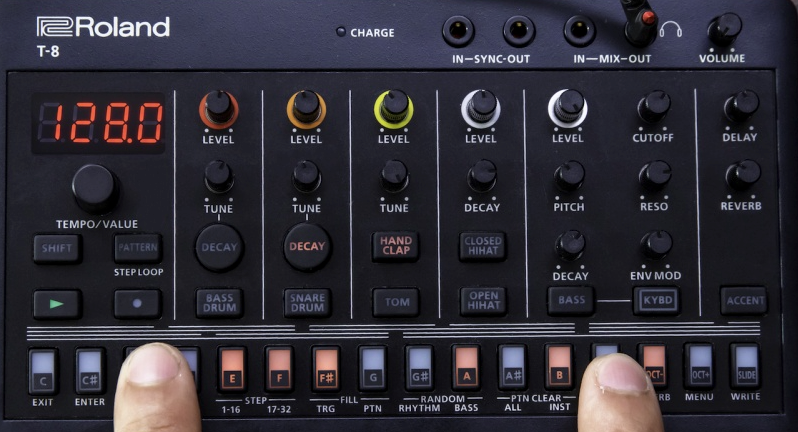 The Sequencer
Other features include a USB-C port for triggering sounds from your SAW via MIDI or syncing the sequencer to the bpm of your project, another handy and impressive feature at this price. There are a few other useful MIDI implementations for live performances or for sequencing a recording across an arrangement.
Follow Roland: Website | Facebook | Instagram