The perfect tools for all those electronic music producers, thanks to their palette of sounds focused on techno, house and ambient.
Cobalt8
Following in the footsteps and build quality of its predecessor ARGON8, the COBALT8 is undoubtedly a new standard in the analogue modelling synthesizer market.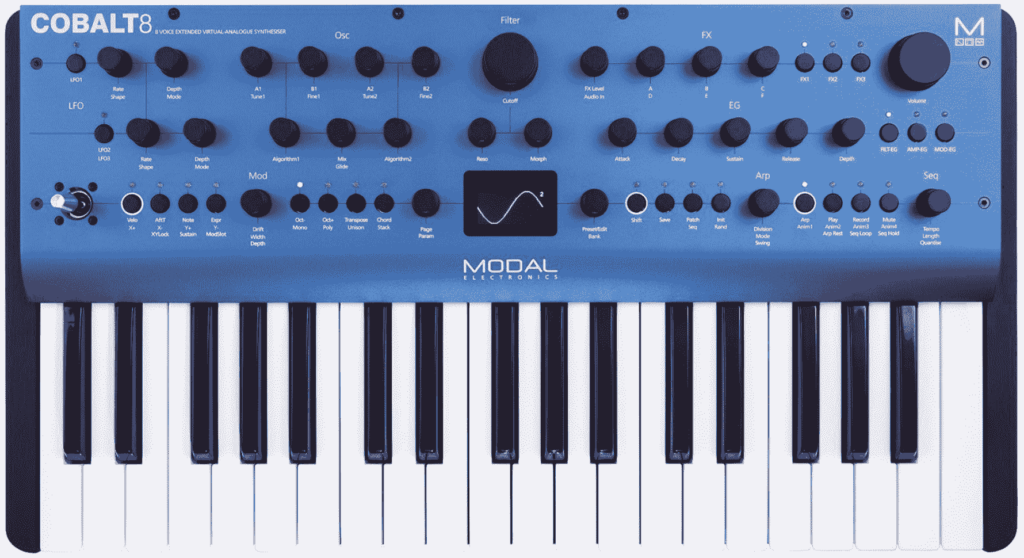 SKULPTsynth SE
With its lightweight design, a massive synth engine and MPE support plus patch and polychain compatibility with its predecessor, Modal SKULPTsynth SE is a comprehensive synthesizer for musicians and producers to get creative anywhere they want.
---
COBALT8
The COBALT8 is a virtual analogue technology synthesizer with a different aesthetic, which emulates the warm sounds of the synthesizers of the past. This digital technology, allows musicians to develop their creativity, by going beyond the limits of analogue synthesizers and exploring new sonic textures.
Thanks to its digital emulation technology, the COBALT8 features a host of impressive and hard-to-imagine features in a single analogue synthesizer. The list is extensive: 8 truly polyphonic voices, 64 high-resolution oscillators, two independent variably shaped oscillator groups, 4-pole variable scale filter offering 4 switchable settings, 3 independent envelope generators, real-time sequencer, 32-step arpeggiator, three stereo effects engine and numerous memory locations for storing presets and patches.
The COBALT8 is equipped with the famous 37-note keyboard from the Italian manufacturer FATAR TP / 9S, which guarantees a very high build quality. The keys are velocity-sensitive and have aftertouch. The interface includes 29 endless knobs and 24 buttons, as well as a 4-axis joystick to which a large number of modulations can be assigned. The USB connection offers the ability to view the keyboard's many filters, LFO or envelope parameters in real-time with impressive clarity.
Product Specifications
---
---
MPE
Supports MPE-compatible MIDI controllers, allowing you to apply polyphonic control and expression to individual notes
---
Oscillators
64 high-resolution virtual-analogue oscillators, up to 8 per voice
Two independent and self-contained oscillator groups with sine, pulse, triangle, sawtooth waveforms, 40 different algorithms including: complex analogue synthesis techniques, built-in crossmodulation (SYNC, RM, and many more), PWM, smooth morphing between VA waves, bit crushing, filtered noise.
Extended Oscillator Drift
---
Algorithms
VA Sweep: Sweep through sine, triangle, saw, square, pulse (with pulse width) (A), ability to detune the oscillators (or snap to musical intervals) using spread (B)
VA Crushed: Sweep through sine, triangle and saw shapes (A) with real-time control over bit crushing (B)
Spread Saw: Spread mode with increased oscillator count, ability to blend between the fundamental and detuned oscillators (A) and more comprehensive spread (B) options (e.g oct up + detuned)
Spread Square: Spread mode with increased oscillator count, ability to blend between the fundamental and detuned oscillators (A) and more comprehensive spread (B) options (e.g oct up + detuned)
---
Filter
4-Pole Morphable Ladder Filter with Resonance and four switchable configurations
Resonance and Balanced Filter Modes
---
Modulation
Three dedicated envelope generators for AMP, MOD and FILTER that can be accessed independently or all three simultaneously including negative (reverse) versions for MOD and FILTER ENVs
Three audio-rate LFO's with tempo sync (two poly, one global) with seven different shapes
Eight assignable modulation slots and four additional fixed modulation routings for common assignments with 12 modulation sources and 55 modulation destinations
---
Sequencer and Arpeggiator
Polyphonic Real-time sequencer with 512 notes and four recordable/editable parameter animations (Delay FX, LFO's, sequencer and arpeggiator can be either clocked internally or externally)
Polyphonic Step Sequencer with 64 steps, 8 notes per step, 4 lanes of Parameter-Lock style animation, Step Input mode, multiple playback modes including gate modes and rest function
Built-In sophisticated programmable arpeggiator of 32 steps with rest capability with up to 2048 steps before repeating
---
FX
Three incredibly powerful independent and user-configurable stereo FX engines for Chorus, Phaser, Flanger (Pos), Flanger (Neg), Tremolo, LoFi, Rotary, Stereo Delay, Ping-Pong Delay, X-Over Delay and Reverb that can be arranged in any order
---
User Memory
500 patch memories, all fully editable and ships with 300 factory programs
100 sequencer presets that can be linked to any patch for quickly loading arrangements
100 FX presets
8 Quick Recall slots accessible from the panel for quickly loading your favourite patches
---
Controls and Performance
Premium FATAR 37-key Keyboard with velocity and channel aftertouch
29 endless encoders, 24 buttons
4-axis joystick that can be assigned to a huge range of modulation destinations and virtually 'locked' when desired
Multiple keyboard modes, Mono, Poly, Unison 2, unison 4, unison 8, Stack 2 and Stack 4
Glide/Portamento with both legato and staccato modes
Chord Invert control to easily create chord inversions and variations
---
Inputs and Outputs
6.35 mm / 1/4″ TS dual-mono line outputs
6.35 mm / 1/4″ TRS headphone output
3.5 mm / 1/8″ TRS stereo audio input
MIDI DIN In and Out
3.5 mm / 1/8″ TS Analogue clock sync In and Out
Class compliant MIDI over USB connection
6.35 mm / 1/4″ TRS expression pedal input
6.35 mm / 1/4″ TS sustain pedal input
---
Enclosure and Display
Road-ready steel and aluminium enclosure with economical stained bamboo end cheeks
1.54-inch large OLED display for instant visual feedback at all times of playing/editing
---
Power
Power: DC-9.0V – 1.5A centre-positive
---
---
General
Dimensions (L x W x H): 555 x 300 x 100 mm / 21.9″ x 11.8″ x 4″
Weight: 5.60 kg / 12.4 lbs
---
---
SKULPTsynth SE
SKULPTsynth SE is a powerful portable performance synthesiser that allows musicians to perform and compose anywhere. This lightweight USB or battery-powered synthesiser features a unique 32-oscillator virtual analogue sound engine. Its mighty synth architecture features 2 WAVE groups, incorporating four oscillators per voice, a morphable 2-Pole resonant Filter plus a comprehensive 8-slot modulation matrix and digital effects.
SKULPT SE supports MPE and offers musicians creative new musical ways to perform with synthesiser sounds, and therefore, SKULPT SE is the most affordable MPE hardware synthesiser available today. The integrated real-time sequencer and arpeggiator are acclaimed performance features and invite to immersive jam sessions. Up to 4 SKULPT or SKULPT SE can be poly-chained to form a massive 16-voice virtual-analogue sound engine.
Modal SKULPTSynthSE is the natural evolution of the SKULPT Synth, combining the best technology of MODAL in an ultra-compact format. With its 4 voices based on Virtual Analogue (VA) technology with 8 oscillators each.
Modal SKULPTsynth SE Product Specifications
---
Polyphony
4 voices virtual-analogue
---
Oscillators
32 oscillators, 32 oscillators, 8 per voice, split into 2 WAVE groups
Individual waveform morphing for WAVE group
Available waveforms WAVE 1: Sine – Triangle – Saw – Square – PWM
Available waveforms WAVE 2: Sine – Triangle – Saw – Square –Noise
Multi option Unison/spread to detune the 32 oscillators for massive sounds
FM, PWM, tuning and Ring Modulation options
Mixer section for WAVE levels
---
Filter
Analogue-style morphing 2-pole filter with resonance
Seamless morphing from low pass, through bandpass, to high pass
---
Modulation
3 x envelope generators for Filter, Amplitude and Modulation
2 x audio rate LFOs, one global and one polyphonic
8-slot modulation matrix with 8 sources and 37 destinations
---
Sequencer and Arpeggiator
Real-time sequencer that will record up to 256 notes and up to 4 parameters of the animation
Fully-featured arpeggiator with division, direction, octave, bipolar swing, Arp Latch and sustain controls
---
FX
Distortion (waveshaping overdrive)
Delay with modulation, sync to internal and external tempo sources
---
User Memory
128 sound memory locations
64 sequence memory locations
---
Controls and Performance
16-key touch MIDI keyboard
14 endless encoders and 13 buttons to access synth parameters for sound programming and real-time tweaks while performing
Compatible with MPE enabled MIDI controllers for expressive performance articulations
Monophonic, Duophonic and Polyphonic play modes are available
---
Inputs and Outputs
3.5 mm / 1/8" TRS dual-mono output
3.5 mm / 1/8" TRS headphone output
MIDI DIN In and Out
3.5mm / 1/8" Analogue clock sync In and Out
Class-compliant MIDI over USB connection
---
Power
Powered by USB or 6 x AA batteries, USB cable included
---
Editor Software
Free editor app available for MacOS, Windows, IOS, iPadOS and Android
---
Case
Lightweight and durable hard plastic enclosure with removable protection hood
---
General
Dimensions: 255mm x 135m x 68mm / 10" x 5 1/2" x 3"
Weight: 0.62 kg / 1.36 lbs (without batteries)
---
Find your Modal Electronic closest dealer
Check your Modal Electronic country distributor
Follow Modal Electronics: Instagram I Twitter
Visit Modal Electronics Website