DJ FM explains his early beginnings as a DJ and producer
DJ FM has been a part of the southeast US EDM scene for over 20 years. As a DJ he's played from Baltimore to Burning Man. As a musician he's performed his original electronic music with a live band and frequently in- corporates live instruments into his DJ sets. He's produced over 90 songs, instrumentals and remixes, and even had his original tracks licensed for use on MTVs Real World, Road Rules, The Hills and Making The Band.
From 2010-2013, DJ FM was resident DJ for Revolution Raleigh at Lincoln Theatre. FM also DJs Mardi Gras at Castle McCulloch.
We had the opportunity to interview him having an insight into his fascinating life experiences and his journey as a DJ and producer.
1. Please tell our readers who you are and what you do? Introduce yourself to those who do not know you yet. Who is DJ FM?
I'm an electronic music producer and DJ living in the Southeast United States. My albums are all an amalgamation of rock and electronic music (I've played guitar and bass for close to 30 years, keyboard since I was 9). I started DJ-ing in 1998, but was writing my own original music years before.
2. How would you describe your own development as an artist and the transition towards your own voice? How would you describe your influences and how have they changed over the years?
I'm influenced by all kinds of different music…the "album rock" I heard as a child growing up in the 70s, the pop music of the 80s that followed me into my teenage years, the metal of the late 80's-early 90s which led to my fascination with industrial-rock, which then led me to drum&bass, The Crystal Method, and mid-late 90s house music. I still carry all of these influences with me, even today.
3. What were your main creative challenges in the beginning and how have they changed over time?
Access and money! When I first began writing my own music, I had a tiny Tascam 4-track recorded and a Boss drum machine. There were no laptops that could record audio to hard disk, at least not that an independent artist could afford! So I had to pay for studio time – my first album, "Breakup," was recorded in 1997 to ADAT tape! I still have all the tapes… it wasn't until 1999 when I bought my first MacBook that had enough memory and storage to record audio to hard disk.
Now? I have a "phone" in my pocket that could hold every single piece of music I've heard since birth, and also record a well-produced, studio quality demo! (oh and record 4K video and make phone calls on it lol).

Technology has democratized music production. But I'm glad I learned how to write and record with LESS, so I understand that even when you have MORE, the elements that make a good song still require simplicity.
4. How is playing live and writing music in the studio connected? What does DJ FM achieve and draw from each experience personally? How do you see the relationship between improvisation and composition in this regard?The studio is where I create and perfect. I can create a whole universe in my mind and introduce some of that to the world using rhythm, melody, and harmony as a medium. So in some ways everything in the studio is both deliberate, but also a collection of "happy accidents."

Live performance is different…my goal playing live is to create an improvised DJ set augmented by improvisation on live instruments. I can play a set of all my own material, both remixes and originals… but to be able to fly in an acapella vocal for a recent pop hit over the top of one of my instruments, then add a live guitar, or live percussion? That's where the fun is. I'd like to put together a band, and have tried since 1999-2000. But it's difficult to find local musicians who are like-minded and believe in music the way I do.
5. Can you talk about a breakthrough work, event or performance in your career? Why it is so important to you? How was like to play at Burning Man?
Probably the most "breakthrough" moment of my career was when my music was used on MTV's Real World. It taught me that I didn't have to be a "top of the pops" singer/songwriter to be able to make a living at music. In fact, here is the video of the very first time a song of mine was used!
Burning Man was an amazing experience… in truth, my first gig there was TINY. A handful of people in a small camp on the Esplanade (the main "road" at Burning Man.) But when you're playing music in the middle of the desert, you truly feel like you're the king of the world.
Unfortunately, I haven't been back since – because my partying took a toll on my life, so I had to sober up and quit using drugs (in recovery since 2009). I know there are sober camps at Burning Man, and maybe I'll go back when I feel I'm ready.
6. What was your first studio like? How and for what reasons has your set-up evolved over the years and what are currently some of the most important pieces of gear for you?
My first studio was an Apple Mac Performa (google it ha!), a Pioneer DJ rig and an Alesis keyboard. I used Cubase to produce at first, then I took those demos into the actual studio.
Now, I have an Apple MacBook Pro, Focusrite Scarlett 18i8 audio interface, Alesis keyboard controller and various guitars, basses, and pedals. And that's just my recording setup…my live performance setup is completely different.
7. We love your latest Remix Juice WRLD + Marshmello – Come and Go (DJ FM Remix) Can you further elaborate on the inspiration behind it? Why did you choose this song?
My favourite hip-hop mostly came out between 1988-1995, and there have been other periods where I paid attention. But my focus has been mostly on EDM for 20+ years. When Machine Gun Kelly put out his "tickets to my downfall" record, I realized that one again hip-hop and rock are coming together!
And then I heard the JuiceWRLD/Marshmello collaboration… I really like the lyrics, "I try to be everything that I can/but sometimes I just end up being nothing/I pray to god that he makes me a better man/maybe one-day imma stand for something." I feel like that lyric summed up 2020 for a lot of people, and also my own personal journey. Sometimes you're going to try and fail, sometimes you might think you're out of second chances. But you have to try and push through no matter what. It's sad that JuiceWRLD lost his own battle with addiction before he was able to put out more music and grow.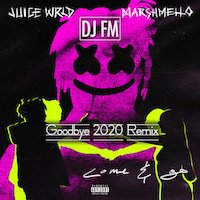 The only part of the original track I used was his acapella vocals. Everything else – guitars, bass, keys, drum programming, engineering – was me.
8. How do you think the music industry will evolve in the next 10 years?
I think that the age of the mega-star is gone. Even the pop artists of today, maybe with the exception of Rihanna (who is amazing, btw!) will never see the kind of insane fame that Michael Jackson, or Madonna, or Prince saw. Music will become more regional, more local…and yet we'll all be able to see pieces of each others' cultures because of the internet. The major labels, and even the streaming platforms, can only hold on for so long. I think the Bandcamp model is the wave of the future.
9. What´s next for DJ FM, can you give our readers a sneak peek at any upcoming projects?
I'm working on my next album "Confirmation Bias" as we speak. Here's a recent instrumental that I finished which will eventually have lyrics (working with a vocalist right now) that's a pretty good indicator of my direction.
Keep your eye on my Youtube Channel for future developments!
Follow DJ FM: Instagram I Facebook I Spotify I Soundcloud I YouTube