In October 2020, Pioneer DJ released the long-awaited successor to the CDJ-2000 line. The 2000s had been around for a decade and had gone years without any upgrades.
Other brands began releasing cutting edge products and many were left wondering what Pioneer DJ had up their sleeve, especially after the release of the DJM-V10 earlier this year. Interestingly enough, while there was certainly much applause for the new player, a large portion of people were confused by what seemed to be a relatively modest update visually, although Pioneer DJ made it clear that it's what's on the inside that counts.
In this review, we'll go over all the new features and whether it's worth your time to consider.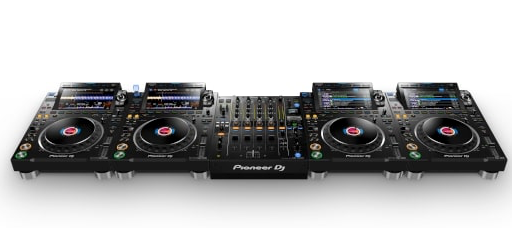 WHAT IS IT?
The CDJ-3000 is the next generation of media players from Pioneer DJ. It's been built from the ground up using the foundation of the 2000 line to create a modern player built to help artists perform their best. Although very similar in form, look, and name to the 2000s, the 3000s are Pioneer DJ's first flagship players to not include the CD drive. This is a major step for the brand, as this is a clear indication they are more or less finished with CDs since, the vast majority of today's artists are using USB sticks.
KEY FEATURES
Many of the key features from the 2000s are still present in the 3000s, but there are still plenty of new ones to separate the two, the biggest being the lack of a CD drive. The players are also seemingly quite a lot bigger than their predecessors. The other largest key feature is the new 9-inch touch display that is significantly sharper and more vivid than before. The jog wheel now displays both the artwork and played position, and Pioneer DJ boasts this is their smoothest jog wheel to date.

Beyond that, the rest of the physical changes are smaller but welcome additions. These include new beat-jump buttons, 8 hot-cue buttons, advanced auto beat-loop buttons, and a new key sync feature that allows you to match the key of your tracks.

I mentioned earlier that Pioneer DJ put a big emphasis on the internals of the new players, and the CDJ-3000s feature the first-ever media players to include an MPU (micro-processing unit) to ensure the smoothest, rock-solid, experience possible.
Below are some key features of the CDJ-3000:
• A New Jogwheel: This is, without a doubt, the best non-motorized jog wheel on the market. It feels buttery smooth, and there's much less platter noise during heavy. use – ie: when you backspin a track when mixing out.
• On-Jog Display: As soon as the DDJ-1000 was released, everyone suspected that this tech would be implemented on the next generation of media players. It's great to have a visual representation right on the platter of a number of functions. As with Denon DJ's Prime players, showing album art when playing a track could have a powerful impact on a DJ's ability to encode and recall what a song sounds like.
• Better looping controls: An 8 count loop button is very useful, and being able to use loop buttons as double/half controls is great – it means you don't have to move your hand to the right at all when setting loops.
• Key Sync: In practice, Pioneer DJ has brought the simplicity of tempo/beat-sync to key. You can quickly load almost any track in any key and tap the key sync button and the track sounds pretty close to what it'd sound like when choosing the next song by looking for tracks that match in key. Having an onboard key syncing feature that actually sounds great allows DJs to think even more broadly when mixing open-format.
• Key Shift (Pitch-Only Adjust): Hand-in-hand with the Key Sync is the ability to manually adjust the pitch of a track in semitones, using an on-screen up/down/reset paradigm. This is great for a momentary gimmick mix (increase the pitch in time with the beat on a drop, then reset it back to normal on the 1.
• Browsing For Tracks Made Easier: Browsing for a track finally feels more like the spreadsheet that it is. Tap any column header and the tracklist rearranges. It takes some getting used to, but this type of basic feature upgrade makes a big difference – especially for DJs with massive music collections on their thumb drives.
• Master Deck Waveform Preview: This feature makes it feel, for a moment, like the 3000s support a dual-layer mode – but instead, what Pioneer DJ has done is put the master deck waveform in place of the beat display at the top of every deck. It's incredibly handy for timing up phrasing (it feels similar to zooming out on all-in-one units like the XDJ-RX/Z series). Hate it? No worries, tap the waveform and it quickly changes to the old-style beat display.
Price: $2299
For more on Pioneer DJ's CDJ-3000 Follow Pioneer Dj Global: Instagram I Facebook I Twitter