We had the opportunity to chat with the human behind the VNCCII avatar, also named Sami Taube. In terms of persona onstage, VNCCII is a 'phygital' model  (i.e. physical + digital) whereby the artist performs in real life ("IRL") as well as virtually as a digital avatar using live motion capture and other cutting-edge technologies.
We know she is passionate about music, and music is her first love. And that's something in common she has with Wootmag. Wootmag is passionate about her music and that's why we wanted to chat more about her production, her concept… and future dreams.
We're absolutely in love with your styling! We're just mental about the rebellious spirit you convey in some of your photos. Where do you get your energy and verge?
Thank you! It's so cool that you discuss the human behind the VNCCII avatar, as a lot of people sometimes focus solely on my avatar. The energy and verge definitely stem from a fire burning inside of me, full of passion. I absolutely love what I do, and like the VNCCII avatar – who's a superheroine – I like to translate that warrior spirit into real life. This inspires my fashion, styling and vivaciousness.
We've read that your artist alias, VNCCII, pronounced "VIN-chee," was inspired by Leonardo da Vinci. Care to elaborate on that concept?
Leonardo da Vinci was a polymath and one of the most brilliant thought leaders of the Renaissance era. The concept of being a polymath inspired the VNCCII project to be more than just about music. I wanted to expand into multi-media ventures, virtual production, technology, altruism and futurism. The context surrounding Leonardo da Vinci reminds me of a cultural collective that's currently happening. I call the current zeitgeist the "New Renaissance." In the Renaissance, there was the powerful Medici family for [art] patronage, but now there's a global, decentralized family in Web 3.0. You can see examples of it in blockchain technology and the use of cryptocurrency in art and music projects, through non-fungible tokens (NFTs) and virtual communities.
Do you feel like you're alive in the right era?
This is definitely an exciting time to be alive! My mission for the VNCCII project is to be a music and multi-media storytelling Northstar as we navigate the world, to inspire others to build and create a beautiful world.
Where have you performed lately (including just before the global pandemic shut everything down) as VNCCII? How are you managing to perform as a "phygital" form? Please explain what that means.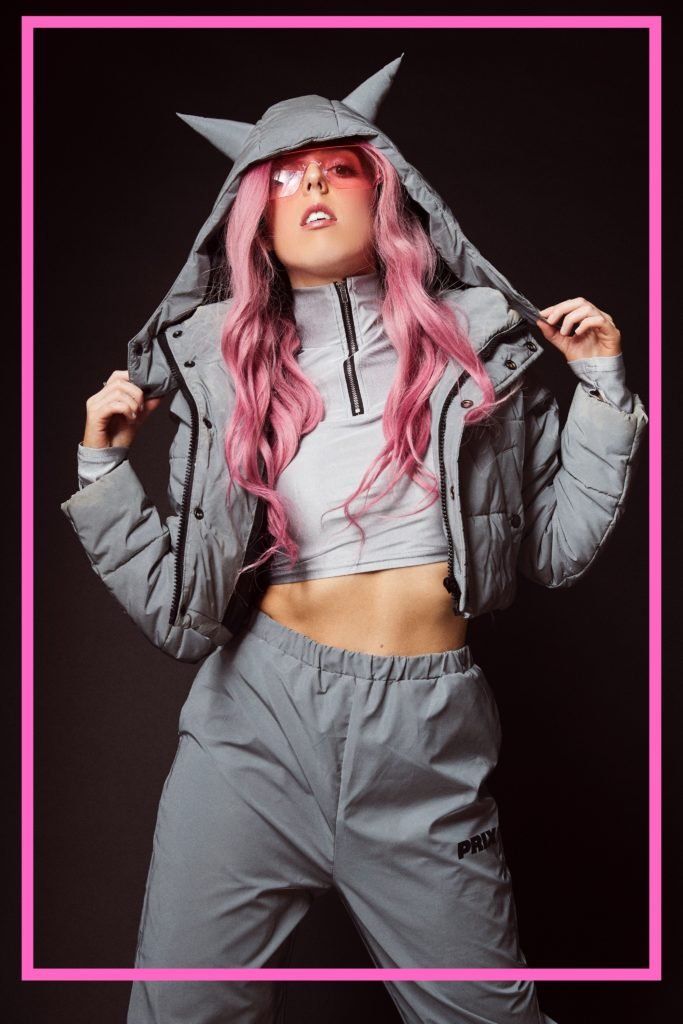 Under my VNCCII alias, I've performed throughout Australia, Canada, and the Netherlands during Amsterdam Dance Event (A.D.E.) I've really focused on embracing the virtual production model for live performance by using technology like Epic Games' Unreal Engine, virtual production and motion-capture to perform live, as my avatar, in real-time. This then enables me to perform as VNCCII in what I call "phygital" form, or physical plus digital. I would've evolved into this space even if the pandemic didn't happen.
So, you're performing in real life as VNCCII?
In real life (IRL), I can appear as VNCCII but also appear in a virtual "gamified" experience, potentially partnering with games like Roblox or Fortnite to access a multi-platform audience. If you've seen the recent show, "Alter Ego," that technology is similar to what I've been doing as an independent artist. It unlocks a whole new realm of creative possibilities for storytelling. I want to inspire others to be whomever they want to be in the open metaverse.
You've been quoted recently as wanting to "save humanity," which is a rather ambitious goal! What do you mean by that statement?
My avatar is used to encourage people to feel empowered through fictional storytelling with art and music. I'm trying to impart a sort of moral message.
What's wrong with good ole' fashioned human DJs and human performers? Do you feel there's something inherently flawed (or lacking) with concept of humans getting up and performing music or art for the enjoyment of other humans? We've been doing this since Homo sapiens discovered fire…
Humans performing is my favourite thing in the world! What I'm showcasing with VNCCII is an added layer of storytelling with fictional characters, smart technology and virtual production. Imagine attending an IRL concert with human performers on stage, but add a layer of digital interactivity between the performers and the crowd. The audience would be active participants in the show and "gamify" it so that it adds a whole new level of interactivity, both physically and digitally.
In what year do you envision VNCCII to exist? Does your avatar exist on planet earth, or another planet? How will club culture be different in that year than it is now? Is that better or worse?
VNCCII's from the future. She's all-seeing and can travel time, galaxies and dimensions. As to where she resides, that'll be revealed in my upcoming AI space opera, which is a grand opus-type narrative that'll accompany my debut album, VNCCII And The New Renaissance. Like "Star Wars" did for George Lucas, VNCCII's story will reveal characters in her universe with infinite possibilities for extending the storyline.
Lastly, leave us with your new single, "i-LIBERATE." What does the song mean to you as an artist?
"i-LIBERATE" is about self-expression, empowerment and liberation. The title's an allusion to technology and it fits into the storyline of my avatar and her mission to use technology as a force for good.
Follow VNCCII: Facebook I Instagram I Twitter I Spotify I Youtube