The Roland JU-06A combines the best of the JUNO-60 and JUNO-106 into a modern, compact, battery-powered instrument that can be comfortably played anywhere.
Roland, a leading distributor and manufacturer of electronic musical instruments and professional video products, created the Roland JU-06A synthesizer, a compact and affordable instrument that combines the best of the vintage sounds and functions of the legendary JUNO 6, 60 and 106 from Roland.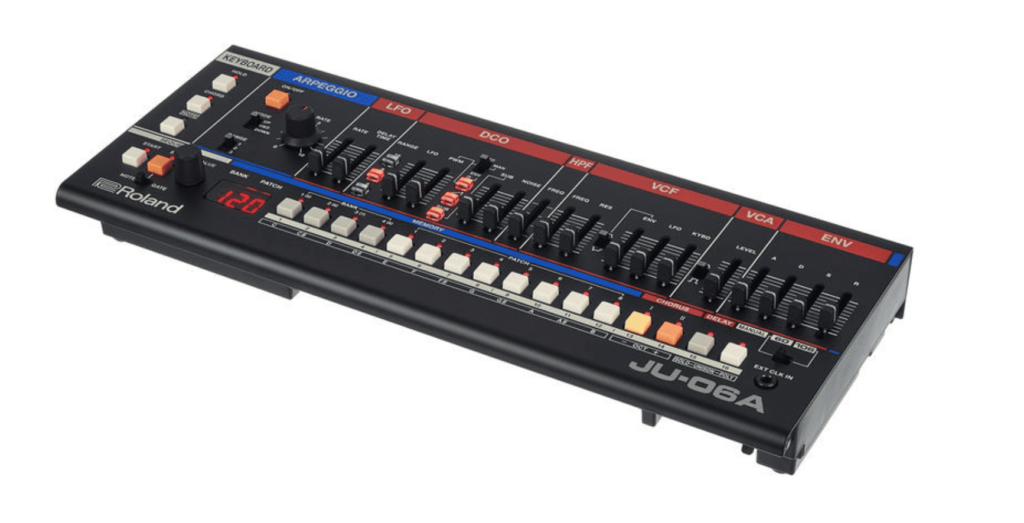 Musicians can seamlessly access the 106 high pass filter and 60 envelopes controllable pulse width modulation directly from the JU-06A's front panel. This model is a nostalgic tribute to Roland's famous synths from the 80s – legendary oscillating chorus included – and is based on its predecessor JU-06 from Roland Boutique, adding improvements to the sequencer, interface, trigger input, the arpeggiator and more.
Roland's attention to detail extends to the design of the JU-06A, which follows the aesthetic lines of its predecessors, with a genuine vintage style accompanied by strong metal panels and axles made to withstand any concert or tour.
Small but powerful, the JU-06A brings together classic and modern features — with chord memory, a built-in sequencer, and the JUNO-60's arpeggio — in an instrument so compact it fits in a backpack.
The JU-06A is designed for creative musicians who want the JUNO's vintage sound at an affordable price, who are looking for inspiration in fun gear, and who want an instrument that performs the same live and in the studio. JU-06A is a master of versatility, incorporating USB audio / MIDI and full-size MIDI jacks, so the performer can play and sync with virtually any other instrument on their equipment.
The 1/8 "jack and USB connection facilitate a clean setup, while the JU-06A's compact size allows it to be integrated into all kinds of setups, with easy connection to a master keyboard, DAW, K-25m keyboard, or the DK-01 Boutique Dock.
As one of the most interesting additions to the Roland Boutique family, the JU-06A maintains the brand's timeless sound and cutting-edge technology, attributes that allow it to take the musician into the future of creation. You can find your local dealer here.