Versus lands on Ultra Music label with "Turn Me Out", a stunning new version of the much-loved club classic.
Versus are Dave Skehan and Scott Walker, an electronic music duo formed after a chance meeting at a local radio station in South Manchester several years ago.
They have been blazing a trail through the UK club scene and beyond with performances at The Warehouse Project, Ministry of Sound, and their own sell-out Versus & Friends parties over the last few years, they're hotly tipped by some of House music's most influential figures.
They now make their Ultra Music debut with the rework of 'Turn Me Out'; a slamming reinterpretation of the Praxis/Kathy Brown club classic. Pummelling drums, broken beats and that iconic vocal, resulting in a moment that will be moving the dance floors.
We chat with the duo to dig into this release.
---
When did you start writing/producing music? Separately and as a duo.
Scott: I went on a music production course in Manchester around the year 2000, I was making hard house & club land type electronic music, so from pretty much then I have been into music production.
Dave: I learnt the basics in Reason and started dabbling in making UK Garage (not good I will add), we've known each other from growing up in the same area in South Manchester, but we went different ways with our musical tastes and we met up again 3 years ago and started making House music. It was all natural.
Where does the name Versus come from?
Dave: I was in a restaurant in Manchester staring at the window as I was waiting for my food to arrive and I remember the cars stopped and a huge lorry blocked my view. When the traffic lights went green the lorry drove off and all I could see was a huge sign that said 'VS SOLICITORS'. I remember saying 'VS…VS….VS…..VERSUS OMG' and that's it haha. At the time we were toying with other names, the kind of names that you find in Star Wars ''Trojon Sound', 'Brazen', 'Dark Matter'. Glad we went with VERSUS!
What was your first studio like? How and for what reasons has your set-up evolved over the years and what are currently some of the most important pieces of gear for you?
Scott: My first studio was like everybody´s elses, started off in a bedroom with a PC, soundcard and a set of monitors. Now the studio has evolved to better monitor speakers, a better soundcard and outboard gear, along with being in a professionally sound-treated room. The most important bit of kit for me is the original Juno 106 and a Moog for bass-lines. With the advancements of technology we use Arturia plugins which model a lot of the classic synths including Moog and Juno, so we tend to use them a lot. The original Juno is nice to play with sound design.
Dave: Same as Scott, I had a DJ set up in my bedroom. I remember my mum coming into my room saying 'turn that racket off' so I had to turn the speakers off but I kept on mixing in the headphones for hours and hours. This must have been the UK's first silent disco hahaha…
How is it like working with a partner, as a duo?
Dave: It's amazing, we can bounce ideas off each other when you get stuck on a track, just having somebody else there with ideas is brilliant. Plus, it always helps to have another set of ears on a track.
Scott: Same as Dave, it's refreshing to know there is somebody you can bounce ideas off with. We work well as a team.
What has been your biggest challenge right now? Have you been able to overcome that challenge? If so, how
Scott: The biggest challenge has been all clubs and festivals shutting down, like many of our peers make music for the dance floor, but the dance floor has been closed for 18 months, so to overcome this we've had our heads down in the studio to build up a massive catalogue of tracks for when the raves open, which is now (YAY) !!!
Dave: The fear of rejection. So many demos get a no. It's not nice when you put your heart into a track and hear a no, I used to be really bothered when hearing a no, now I am not arsed!
What was the most satisfying moment of your career?
Scott: We have played huge gigs all over, but for me, it's this release, 'Turn Me Out' right now on Ultra Music, one of the biggest (if not the biggest) dance labels on the planet. It's most satisfying for the haters and doubters I have come across over the years. And it's a true testament to believing in yourself no matter what anybody says.
How would you describe your own development as an artistic duo and the transition towards your own sound?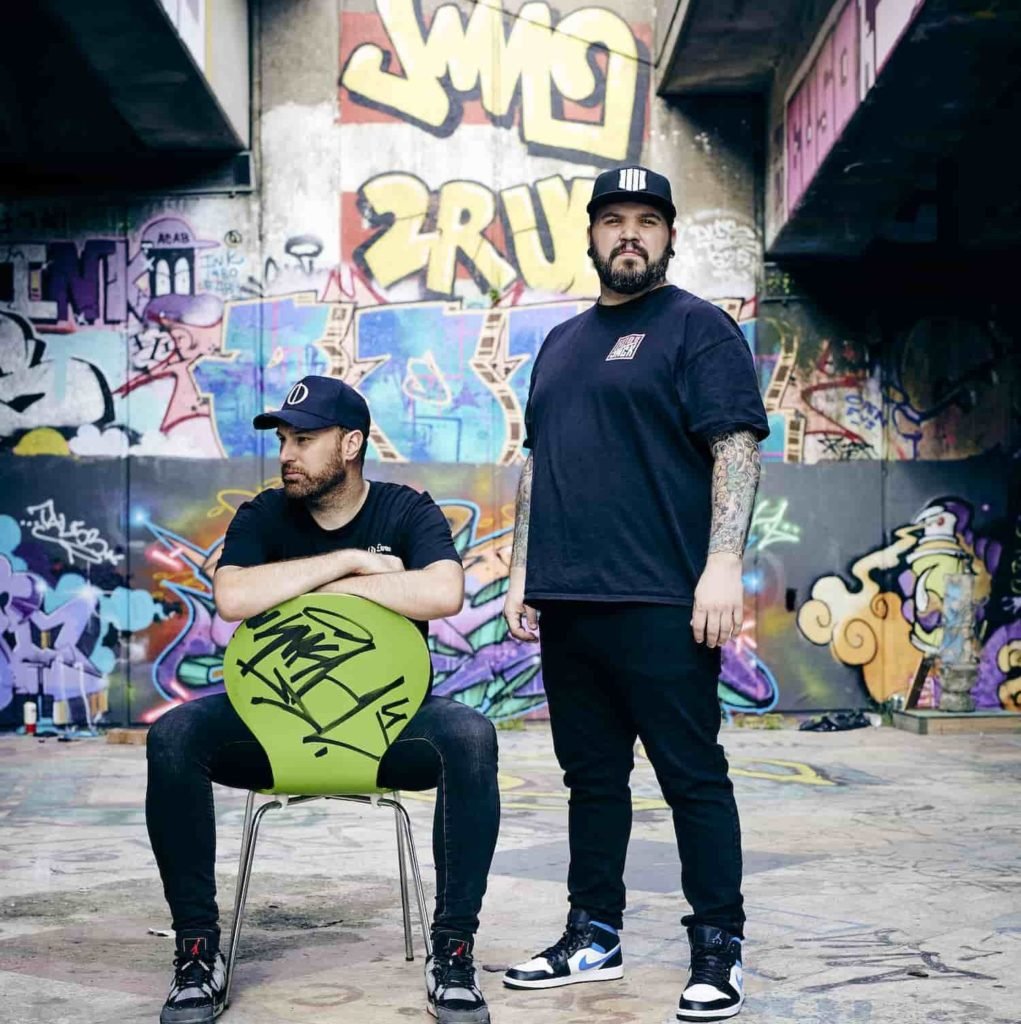 Scott: Obviously on the development side we're working hard in the studio every day, learning new skills, tricks, training our ears standard really. But working towards the transition of our own sound is obviously heavily influenced by the music we have listened to in the past, and the sounds we've grown up with…we think its evident in our latest release 'Turn Me Out' drawing inspiration from the rave scene with the sounds used, and getting Kathy on the vocal was the cherry on the track.
What was the inspiration behind "Turn Me Out"? What do you look for in a song when choosing to remix it or not?
Scott: We don't always choose a remix, we start with the beat, get the groove going with the bassline as it's the most important part, and then we look for vocals, samples, and ideas that will work with that groove, which is what happened with 'Turn Me Out'.
Dave: The inspiration was 90's rave scene, those big detune stabs and lead sounds with breakbeat drums
Can you describe what is a Versus & Friends party like?
Dave: Picture this: a dark small basement venue in Manchester, low ceiling, bare brick walls, sweat dripping off the ceiling, and an insane sound system. Oh! and NO VIP, NO backstage, it's about the music !!!!
Do you have any other releases coming out this year?
Scott: Yes we have loads coming out on big labels, no doubt you guys will know soon enough.
---
Follow Versus: Web I Instagram I Soundcloud I Twitter