PX099: 100 Years Of Colombia
Planet X has released PX099, a Techno compilation with tracks from the biggest artists on the scene that has the intention of raising awareness about Colombia's social unrest.
Since April 2021 the people of Colombia have been protesting peacefully against corruption and unfairness from their government entities. These protests have been permeated and violated by terrible police brutality. There have been documented disappearances of hundreds of people, killings of civilians by police forces, sexual assaults made by members of the police, and thousands of injured victims according to the non-governmental organization ONG Temblores, who have been documenting the situation.

Planet X Society
PX099: 100 Years Of Colombia has support from DJs and producers such as Nina Kraviz, Ben Sims, Fjaak, Kobosil, Oscar Mulero, Paul Ritch, Rødhåd or Marcel Dettmann among many others, giving shape to a 99 track Techno album. The income will be donated to charity organisations across Colombia such as Desaparicion Forzada , Movice (Movimento Nacional de Víctimas de Crímenes de Estado) and Red Juridica Feminista, amongst others to be confirmed.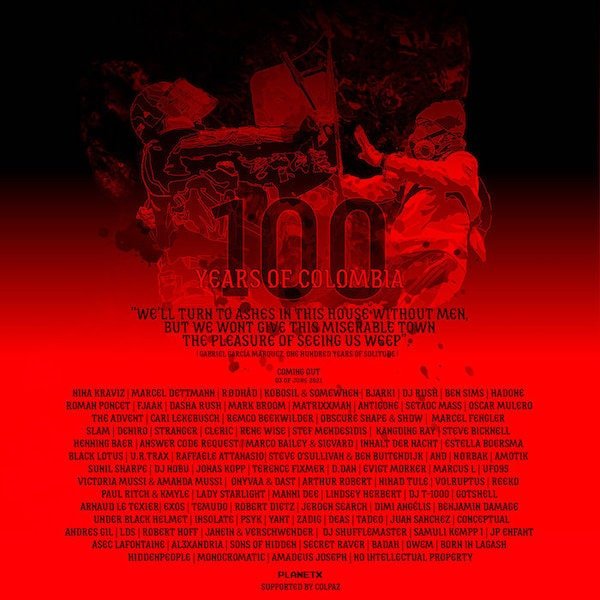 In addition to the album release, many platforms have collaborated to help out in different ways such as HÖR BERLIN with streamings, BE-AT.TV with short animations or HATE with videos.
Buy the Album: Bandcamp
Follow Planet X: SoundCloud | Instagram | Facebook | Twitter