When it comes to producing electronic music, finding the right program for your projects can be a real challenge. If you're using a DAW for the first time, it's recommended that you start with free, easy-to-use software before investing in something you'll probably never understand.
What is a DAW?
A DAW (digital audio workstation) is a type of software designed for audio editing. These music production programs are varied and each has its own specificity. They are used daily by sound designers, music producers and other audio professionals. With these programs, you can edit audio files, record, add audio effects or virtual instruments, connect MIDI, mix and master. Having a good DAW is a must for any music producer.
GarageBand
GarageBand is a DAW developed by Apple and available for free on all Apple devices only. It has a wide variety of instruments with an easy-to-use interface suitable for beginners, and also offers a wide range of possibilities for advanced users. Its similarity to Logic Pro X allows you to make a real entry into the world of music creation. Its main advantage is that you can create any kind of music with it, from pop to techno.
Only available on Mac
Solid presets for voice and guitar recording
Few amps and effects for guitar or microphone
Chord mapping for a better understanding of music theory
USB support keyboard and some built-in loops
Interactive plug-in controls
CakeWalk BandLab
Cakewalk is probably the best free software for electronic music production. It includes all the features of its previous paid version SONAR Premium which gives you the possibility to use a wide range of effects, instruments and plugins. All this makes CakeWalk an excellent program, but it is only available for Windows users, which is its biggest drawback.
Only available on Windows
Free, with unlimited access to features
Interface personalizable
Waveform Free TRAKTION
This DAW is the free version of the full Traktion software, but that doesn't stop you from accessing many of the essential features of a good program such as creating, editing and recording. There is no limit to what you can produce with this version, especially as there are many effects at your disposal and the interface is easy enough for the less experienced to understand. It works on PC, Mac and all other platforms.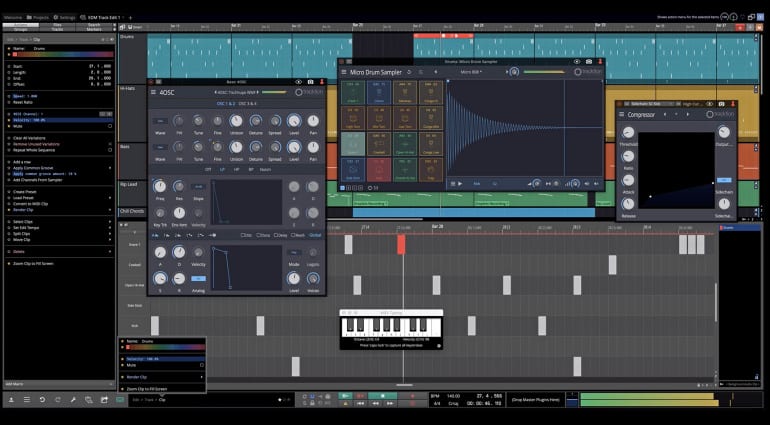 Available on Mac, Windows & Linux
Unlimited number of tracks
No copyright restrictions
Wide variety of options for rendering and recording projects, without limits
Allows all third-party instrument and effect plug-ins
Soundbridge
With an intuitive surface that anyone can use, SoundBridge has been designed to make it easy for even the most inexperienced musicians.
This DAW is comprehensive enough to get you started in music production and is available as a free download on Mac and Windows.
However, if you are already quite advanced, this software is probably not for you as the features are still limited.
Available on Mac & Windows
Very intuitive user interface
Fast and smooth
Missing instruments
No audio unit support
Missing keyboard support for piano
Conclusion
For the more experienced and those who don't know which paid software to buy, we recommend that you first try the trial versions you can find, especially on suitable DAWs such as Logic PRO X, FL Studio or Ableton, which are fully optimised for electronic music production.
If you want to know more music production tips, follow us and check out our latest article here.
Follow us: Instagram I Facebook I Twitter I Spotify I Soundcloud I WEB