"Eighth Of August" premiere ir already available under Revolver Upstair Records.
Today we're talking about Acid Safari 's brand new four-track EP on Revolver Upstairs Records. Announcing this new record is something expected and special since this artist performs at some of the toughest techno parties in Melbourne and resides at multiple important clubs in the world for years so this will mean a return to the stage after COVID.
We already have a favourite track on this EP. And of course is "Eighth of August", the first track, but not the only track, on this four-track EP. The eighth of August is, of course, only one of the many days in that month, but this was chosen by reason of the number on the 8/8 calendar.
You can choose to play the EP on shuffle, a feature of the many digital audio playback applications, of which there are many: whether it be Spotify, Apple Music, Deezer, Tidal, Google Play, or indeed Bandcamp, where you will find all of our releases on Revolver Upstairs Records, and in turn whether it be one of the label's many other releases, including Acid Safari's "Modal EP," another musical work of which they can all be proud. That release appeared last year, of which there are many, on November thirteen, another of the many days each month. But that's not why we're here today, we're here to talk about Acid Safari and his new EP.
Of course, all of this says nothing of Chiara Kickdrum's incredible remix work for "Early Spring Or The End Of Summer" – and we are not even talking about the original here, of which we can also talk a lot. This release will be announced with the entire EP live.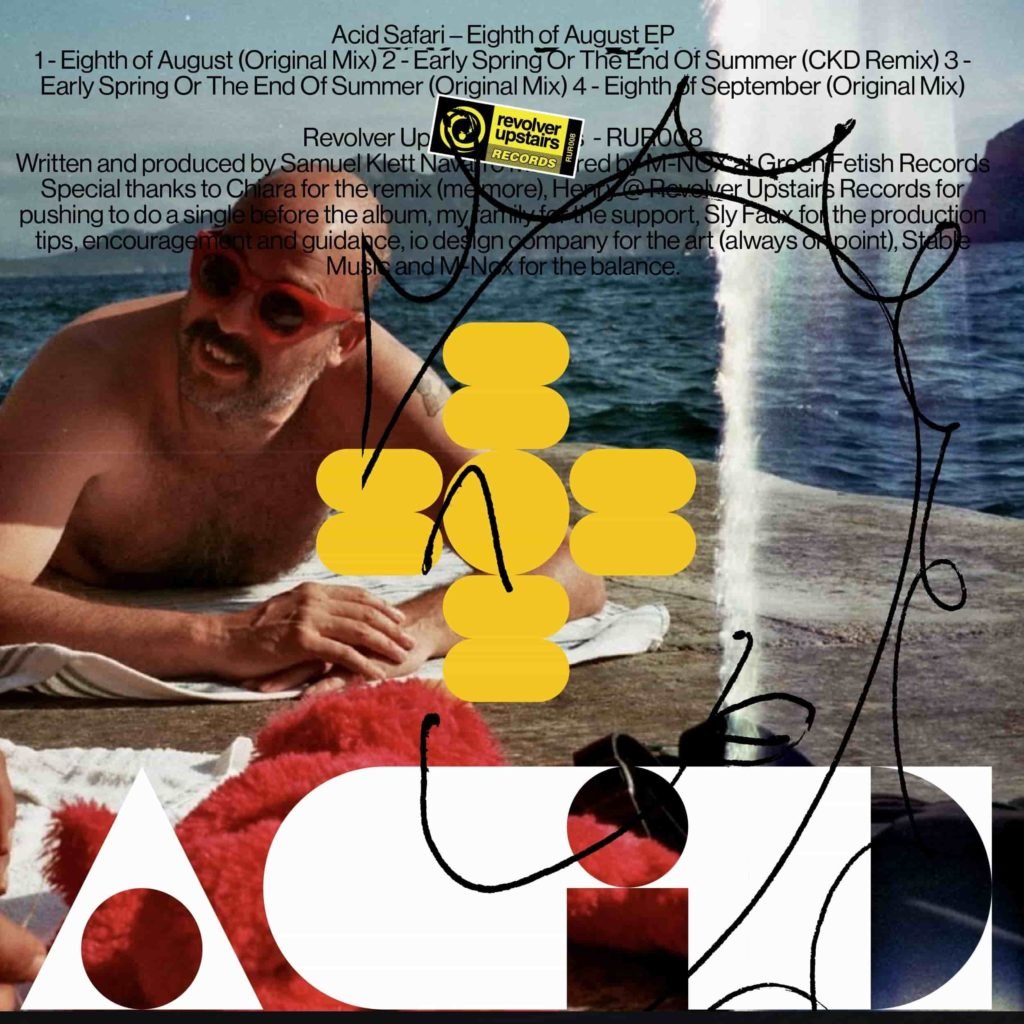 Upon listening to this remixed track it's quite clear that Chiara has taken elements of the original track and combined them with additional instruments. One of those instruments is of course the drum machine, an incredibly powerful instrument of Electronic Dance Music, and an instrument that inspires us all. In turn, that instrument is made up of many drums in many ways it is a collection of discrete drum sounds, operated by a machine with a sequencer – a drum machine in the truest sense of the word.
Those sounds might include the kick drum, otherwise known as the bass drum, a term that describes both its function and frequency. In addition to the bass drum it could be accompanied by the snare drum, a drum that inspires us around the country, or the hi-hat, a drum sound that appears on some of the many inspirational tracks, both on this EP, and around the world of electronic music, and indeed beyond: the hi-hat appears in pop music, in funk, in rock, and indeed in any style of music featuring a drum kit, of which there are many.
Acid Safari's other track is "Eighth of September" in turn a track that also makes reference to the eighth day of one of the many months each year that features a day on the eighth. The "eighth" is a day that presents many challenges, but we will of course rise to those challenges. One of the most evident challenges lies in its spelling. T
Accordingly, the rollout must be very deliberate, and in keeping with the expectations of both the artist, Acid Safari, and the label, Revolver Upstairs Records, and indeed you, the reader, and hopefully also the listener.
Follow Acid Safari: Soundcloud I Facebook I Instagram
Follow Revolver Upstair Records: Instagram I Soundcloud