TripField DJ Flatfoot Sam is back with his new track titled "Boathouse", a tune with a deep and mystical atmosphere
The idea of creating "BoatHouse" came to Flatfoot Sam while he was in Cornwall writing the first single from his new album, a chill place where the location is a source of abundant inspiration for the artist. Coming from the genre that the artist calls TripField, a style between Trip Hop and Leftfield to which he adds a modern touch, "BoatHouse" is a song with a smooth tempo of around 86 BPM. Having written the music in an old converted lifeboat station, the track emanates a certain spirituality and depth when listening to it.
Flatfoot Sam is an artist who emerged in the late 90s composing Hard House and Techno tracks for clubs. He subsequently fell out of the spotlight for a few years before deciding to compose again during the first pandemic lockdown, notably on Ableton, helped by his friend Slippers who explained the workings of the DAW to him shortly beforehand. This is how the TripField style came about, which first appeared by accident as the music did not fit into any existing category.
With a method of music production that follows no code except to be self-driven, the artist manages to create unique and experimental melodies.
 I wish I had a profound answer as to where I get my inspiration from, but I don't. I usually sit down and play with samples, rhythms, and chord progressions until something starts to sound good 
Being a big fan of the electronic music revolution, from Disco to House and Garage to Techno and Rave, Flatfoot Sam finds a certain nostalgia in this era that he identifies himself with.
Thus, he has an infinite admiration and tremendous respect for the artists who were able to take risks during this period when electronic music, new for the time, seemed strange but they persisted and dared to play Acid House during their sets while the public only wanted to dance on Groove and Rare Soul.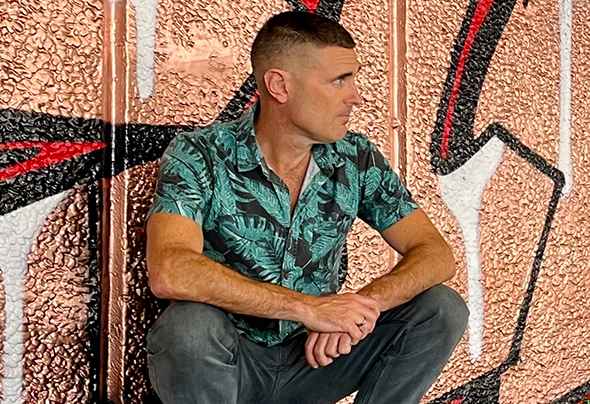 Among them were the first Rave DJs such as Grooverider, Fabio, Carl Cox, Rampling, Oakenfold, and Slipmatt, who are still doing it, as well as influential people such as Pete Tong, who defended dance music. As well as the less mainstream DJs like Weatherall, Fung, Noise, Pickering, Park, and Dale who helped make the electronic scene what it is today, and the American pioneers like Larry Levan and David Mancuso.
All these people inspired me, but from a production point of view I think bands like Leftfield, Prodigy, Massive Attack, Postishead and Kosheen helped shape my music
With a style that could be distinguished into two different sides, one more catchy and punchy like Trance, House and Hardcore when he mixes as a DJ and the other as a producer where his style focuses more on the edgier experimental sounds of genres like TripField, where you have the freedom to create your groove and not conform to the codes that normally drive music producers.
Featuring a signature sound that he describes as deeply spiritual, uplifting, melancholic and stoic, his album already contains a few tracks written with BoatHouse as the first. The artist told us that throughout 2023, he will be writing various tracks to release another album at the end of 2023 or early 2024.
Follow Flatfoot Sam:  SoundCloud I Instagram I Spotify I Facebook I Twitter