Electronic Music Inclusion Initiative promoting inclusion inside the electronic music industry
Multiple Electronic music organizations including: Pioneer DJ, Mixmag, Beatport… have collaborated with InChorus to create the Electronic Music Inclusion Initiative (EMII).
The initiative based its approach on data to record and be aware of the discrimination and harassment in the electronic music industry. They explained: "The EMII powered by the anonymous InChorus survey, is key to understanding the challenges our industry is facing so that targeted action can be taken."
Electronic Music Inclusion Initiative main goal is to create "a more inclusive Electronic Music industry, one where racism, sexism, or discrimination of any kind is not tolerated."
Some of the partnerships are Pioneer DJ, Beatport, Sentric Music Group, AFEM, Resident Advisor, IMSE, and Women In CTRL.

Anyone inside the industry can access InChorus' survey. The purpose of the survey is to create a safe and non-judgmental environment. Individuals can express their experiences.
Thanks to Analyzing and recording all data it will be easier to plan accurate measurements for change and taking responsibility.
Association For Electronic Music, General Manager, Greg Marshall, added: "The first step for the EMII is designed to provide new insights on harassment, bias and discrimination issues within our culture and inform the next steps we can collectively take as an industry to address them."
During the past few years, many injustices have been exposed by music electronic industry insiders. InChorus initiative was born due to this increasing pressure of the ongoing discrimination and gender inequality in this industry.
One of the most relevant collaborators, Pioneer DJ's General Manager, Mark Grotefeld, said: "We are proud to support the EMII in order to push for systemic change across the industry.
He concluded: "We hope this will continue and progress and empower individuals to share their experiences of bias and harassment and encourage the industry to adopt robust listening tools that enable targeted action and progress."
Once all the data is collected and analyzed, it will announce the results.
Hopefully, thanks to the findings innovative plans are elaborated to eradicate discrimination and harassment in the electronic music industry.
InChorus, Co-Founder, Rosie Turner explained: "Ultimately, cultures are shaped by the inappropriate behaviours that are tolerated every day".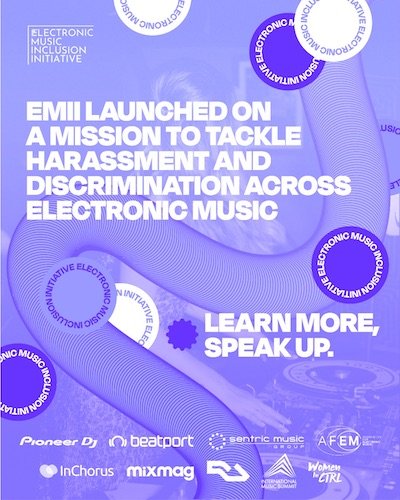 "We are serious about culture change and believe that bringing actionable data to this conversation is key, as what is measured can be improved."
These are incredible initiatives that shape a better future for the electronic music industry workers.