Released by the iconic New York DJ Lenny Fontana's label Karmic Power Records, 'Friday Night' showcases Kardano's signature sound and distinctive style, blending laid-back yet groovy and dynamic elements resulting in a dancing mania house hit.
The Canadian DJ and Producer, Kardano, takes us behind the scenes of the production process for 'Friday Night,' providing a glimpse into the creative decisions that went into crafting this certified banger. From the energetic house beat to the vocoder-processed main vocal line and infectious synth chord progression, Kardano walks us through the track's construction and the various elements that make it stand out. This article is a must-read for fans of Kardano and electronic dance music alike.
With a deep background in the music industry, an unstoppable passion for electronic dance music and an eagerness to experiment with elements from various genres, Kardano challenges us musically providing a strong groove for the people. His music is delightful and catchy with a funky and soulful interpretation in the deep house, disco and even electro-funk universe.  
"I love Chicago House, and when House was getting popular in the 90s with pop artists using a lot of the M1 Keyboard sounds and Disco. I listened to a lot of this stuff in my childhood and a lot of 90s Hip-Hop in my teens like Dr Dre's stuff. Put that all together, and you got West Coast Disco. I think I'm gonna start throwing this around as a joke and see how far it goes." – Kardano 
Yet, preparing to forge his own path in the musical space, accomplished producer Kardano embarks on a new journey with his 'West Coast Disco' release 'Friday Night'. Having built a distinguished presence within the music industry, with a stellar portfolio that has seen the rising talent collaborate with the likes of Mango Sounds, Popgang Records, Play Records Inc., and now Karmi Power Records, the boundless talent is now ready to unleash his unique production technique and innate musical prowess to the world. With 'Friday Night', Kardano delivers a sonic masterpiece that sets the tone for what's to come from the talented DJ and producer, offering listeners spellbound and eager for more.
"Firstly, I started to work on the bass line, and then everything else fell into place. There was no specific inspiration behind this track as such… I feel like, I was just splashing sounds on my DAW sound canvas. There was actually no intention for the lyrics either to be about Friday night. I was playing notes on my Electro Spit (New TalkBox) invention and I mouthed the words within a good 5 minutes or so. However, my favourite part must be the keyboard elements. It's chill and funky, and let's just throw in the joke, West Coast Disco." – Kardano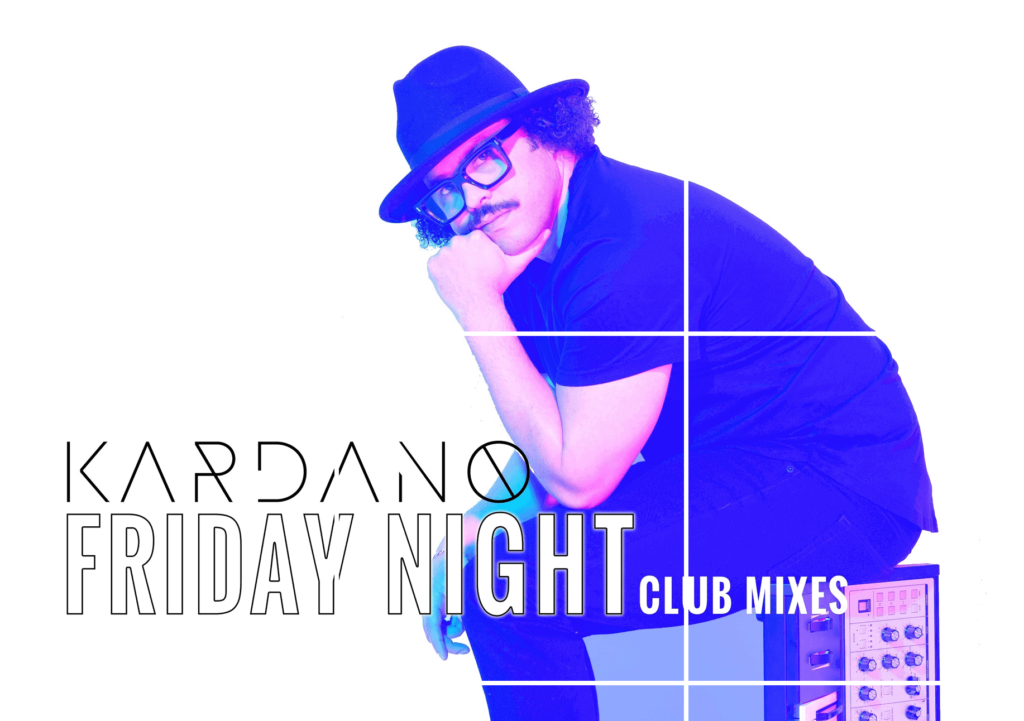 Despite no specific intention behind this groovy banger, the Canadian producer created a bouncy summer hit featuring an intoxicating blend of upbeat rhythms, infectious hooks, and exuberant and funk-infused synth elements. The track flawlessly showcases Kardano's production expertise and innate ability to blend various sonic elements seamlessly to create a harmonious and captivating listening experience. Whether pumping up the crowd at a festival's mainstage or igniting the energy on a club's dancefloor, the tracks' expansive soundscapes are a testament to the track's versatility solidifying its place as a must-have addition to any playlist. 
Kardano will drop a handful of sonically diverse remixes soon, including a cover of Bell Biv DeVoe's 'Poison' showcasing his boundary-pushing artistry and technical mastery. As the exceptional producer prepares to unveil a handful of sonically diverse offerings, 'Friday Night' stands out as an irresistible summer anthem and tantalizing glimpse into what's to come from the rising star.
'Friday Night' is out now and available to stream on all platforms. 

Follow Kardano: Instagram | Beatport | Soundcloud